Family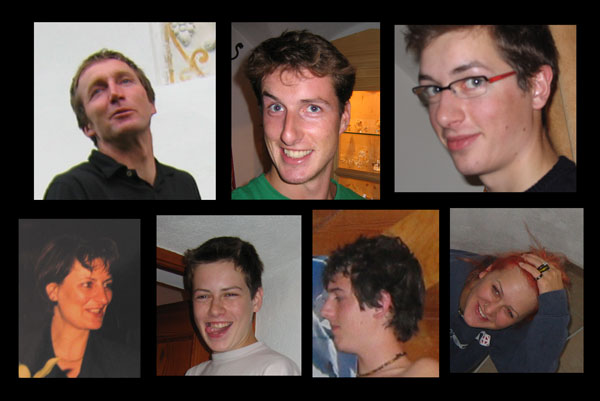 That is family Gleirscher. We are 7 "Ehrenhauser" (Mum, Dad and 5 children). The persons on the picture above are:

Alfons, Engelbert, Robert (above from left)

Maria, Harald, Herbert, Cornelia (beneath from left)

If you decide to spend your holidays at our place, sooner or later you will get in touch with those people. That's why I thought it would be a good idea to introduce us as good it's possible;-)
Alfons

is the boss of our family. He is doing the whole agriculture works. Not only that, he's the creator of the wood arts around our farm too. Amongst this things dad is a very good mountain and marathon runner. His wish is to do a marathon in a time less than 2h 50min or to get a better tractor.
Maria

is the housekeeper of the "Ehrenhauser" farm. She looks after the guests, which spend their holidays here. Mum is well known for her vegetable soup and her cheese dumpling (Kasknödel). But for me the best is her banana – cake. Mum doesn't like it when she's photographed, so there are not that much pictures.
Engelbert

This is me, the oldest son of family Gleirscher. I'm civil engineer, trying to brew my own beer and I'm the webmaster of this page. Nobody but my grandma calls me Engelbert, so there are a few names my friends gave me, like: Berti, Bertman, Engelhart. I'm fascinated by the nature (especially by mountains), that's why I love all sports that have anything to do with mountains: Mountaineering, climbing, skiing.
Robert

Robi is my brother, joiner and Ski -and Snowboarding instructor. He's living with his wife Carolina and his children Lisl and Arnold not far away. So he and his family are from time to time at the our parents house. His journeys took him to south america (Chile). There he found his wife and thats even why he's speaking spanish very well.
Cornelia

She is the only daughter of the family and child Nr. 3. Conny or Rudl was student on a higher school for fashion and design. There she made the final exam and is now working in Innsbruck. Every minute she tries to be in the air with paragliding or climbing.
Herbert

is the 4th child of the family and he has now finished the apprentice to a retailer. Herbi is working in Innsbruck in the sportshop Eybl. He's pierced in his lower lip and in his nipple. He has a tattoo on his forearm and on his back and the next project is waiting... His passion is paragliding an he even is the uncle number one for his nephew and his nieces.
Harald

Or Hakl is the youngest of our family. He's master tiler and a quiet good worker on the building site. Hakl is a fascinated ice hockey player and he likes to enjoy the nightlife in Neustift.