Our Animals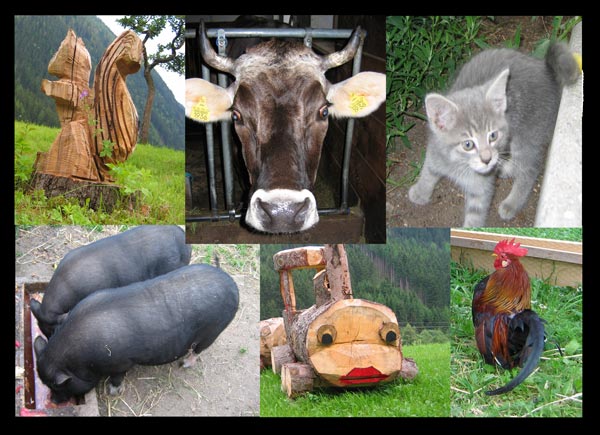 What would a farm be without his animal world? Not only cows, pigs and cats enrich the life around our house. In our small zoo live rabbits, guinea pigs, flabby stomach pigs and the cock with his chicken.

If you are on the lookout … and you are very silent … now and then a huge squirrel comes into our garden … Some people say they have seen Mickey Mouse but for this you have to go and see for yourself ;-)

With clicking on the headings you'll see a photo gallery.
Rodents

In the pen of the rodents there are 5 animals. Those are 2 rabbits (Fidel + Stini), 2 guinea pigs (Adelheid + Dietmar) and a giant rabbit (Günther). Normally Günther doesn't speak any word but he is the boss of this pen.
Jonny and Janette are very lazy as I've seen. They love it to sleep in their hut (but they won't come through the entrance if their stomach grows further), and they love it to lie in the sun. They just know quickness if there is something to eat around. Sometimes there's a third flabby stomach pig … I'm curious who gets it…
There are two newcomers in the pen of the rodents.
is our cat that feels very fine in our playful area.
Of course cows belong to the cowshed of a real farm. So our grey-cows provides milk and with that we can make titbits like butter and quark
Not only our small animal zoo makes the holidays to an experience for young and old. There are a few other animals around our farm. Some of them show themselves in splendour but others are hidden from foreign eyes. A legend says that all of these animals travelled to our place by the train…